Lifetime Swimmers History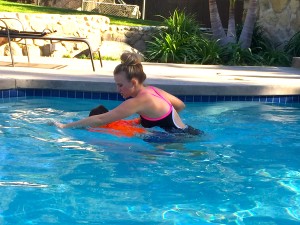 Here at Lifetime Swimmers we have taught for almost 15 years and the success we see every year is overwhelming. The goal of our program is to provide a fun environment where students and teachers work together to make water safe and exciting. At Lifetime Swimmers, we strive to have each of our students finish all 8 lessons feeling confident and protected and to provide the parents with security and peace of mind.
Our program is divided into an 8-lesson session.  Each lesson is 25 minutes long and has a one student to one teacher ratio.  We expect that a child (3 years and up) who has not had lessons before will be able to get to a pool wall by the end of the 8 lessons! Read more about the Lifetime Swimmers Method and how it works here.
The one-on-one lessons allow our instructors the flexibility to format their lessons to the direct need of the swimmer.  As a result of the personal attention, your swimmer will progress quickly. Because of the Lifetime Swimmers Method, our program is one that requires the swimmer to be involved. That means swimmers must do more than sit on the side of the pool and watch. Our program requires the swimmer to be actively participating and trying all the new experiences that instructors are providing. Our program can be tough but we mix fun into our lessons with songs, games, and silliness. Please be aware that we may ask your child to participate in new water experiences that they may not be previously accustom to. Our instructors are trained and will assist them while also helping them to understand their new found abilities. With a swimmer who is involved and participating their success will be outstanding. Not only will they learn the proper technique but they will develop a true love of swimming.
You will be amazed at the progress you see in your swimmer after just a few lessons!